Logo
Logo, 300×118, no tagline:

Logo, 300×140, with tagline: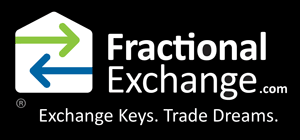 The FractionalExchange.com logo is a registered trademark and is the property of parent company Sierra Holdings, Incorporated. Permission to use, display, print or otherwise replicate the logo is restricted to authorized parties only.  To receive authorization, please contact FractionalExchange.com at (USA) 541-306-3180 or info@fractionalexchange.com.  Please let us know the focus of your article, including when and where the article will appear (if known).
The logos shown above are for use on the web only (72ppi resolution). For higher resolution images, please contact us.