Member Newsletter, July, 2010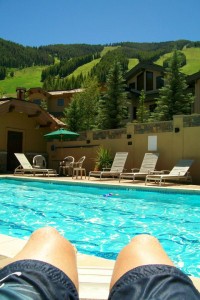 Anatomy of an Exchange
"Variety's the very spice of life. That gives it all its flavor." – William Cowper, 1731-1800
I'm taking the opportunity to write this update while (obviously) enjoying the pool at The Hemingways, located on the banks of Warm Springs Creek in Ketchum, Idaho (Sun Valley).
Over the Thanksgiving, 2009 holiday, our exchange partners enjoyed the use of our place in Cabo San Lucas, Mexico (listing 3100) and we're just now using their place. We'd always heard about the magic of a summer in Sun Valley and it was a great opportunity for our family to enjoy hiking, biking and fishing the area. We also timed the visit to coincide with an incredible slope-side concert by Carole King and James Taylor.
For our family, exchanging is a great way to experience new places. While we love our home-by-the-sea in Cabo San Lucas, we love exploring new destinations! Our next stop: a lakeside exchange at Lake Tahoe in August. Vacation homes and fractional properties offer great potential for exchange, as the exchange need not be simultaneous (our Tahoe exchange partners used our Cabo home in late January, 2010).
It's as simple as sending another member on FractionalExchange.com a simple message: "We'd like to use your place. Would you be interested in an exchange?" If you'd like to practice sending an exchange request, visit our listing 3100 and send us a test message.
Appassionata, Le Marche, Italy
We're very happy to announce the affiliation of Appasionata, located in Le Marche, Italy. Appassionata consists of three restored farmhouses overlooking the Adriatic Sea. Appassionata is being sold in fractional interests and we look forward to new fractional owners joining us at FractionalExchange.com for exchange.  www.Appassionata.com for more information.
Paul's Travel Tip
With the popularity of mp3 players (iPod, iPhone, etc.), be sure to pack a cable that connects the headphone jack (3.5mm) to the female RCA-style jacks of many stereos. With the cable, you'll be able to easily play your favorite music using the audio systems available in most upscale exchange homes and other lodging properties.
FractionalExchange.com Tip
Did you know you have the ability to send multiple exchange offers with one click of the mouse? When logged-in and viewing member listings at the city level (or resort level), you may select multiple listings (or all) and send an exchange message to the selected listings with just one click of the mouse! This is especially handy when proposing an exchange at a specific resort property.
Availability of Financing for Fractional and Vacation Properties
We are currently working on specifics regarding a securities-based lending program that may be used to finance (or refinance) vacation holdings. With lending these days tough to find or non-existent, the low rates offered by this program (currently less than 3%) offer an opportunity to borrow or a great chance to refinance an existing high-interest-rate mortgage. More to follow in the coming weeks.
Regards,
Evan Julber
CEO FractionalExchange.com®
FractionalExchange.com ® | Bend OR USA | office: 541.306.3180 | Support: support@FractionalExchange.com
www.FractionalExchange.com Exchange Keys. Trade Dreams.®